Testing an 8" class 600 triple eccentric butterfly valve, metal seated cone-in-cone seating design with the multiple laminations with extended bonnet for cryogenic conditions.
During the test the valve was tested for operability, seat- and shell leakage at a test temperature of -196°C (-321°F) according to BS6364.
The BS6364 is a British Standard that specifies the requirements for the design, manufacture and testing of valves for cryogenic service.
All tests can be witnessed by our clients using the ITIS e-witness system to give them the opportunity to witness some tests to be performed at our test facility.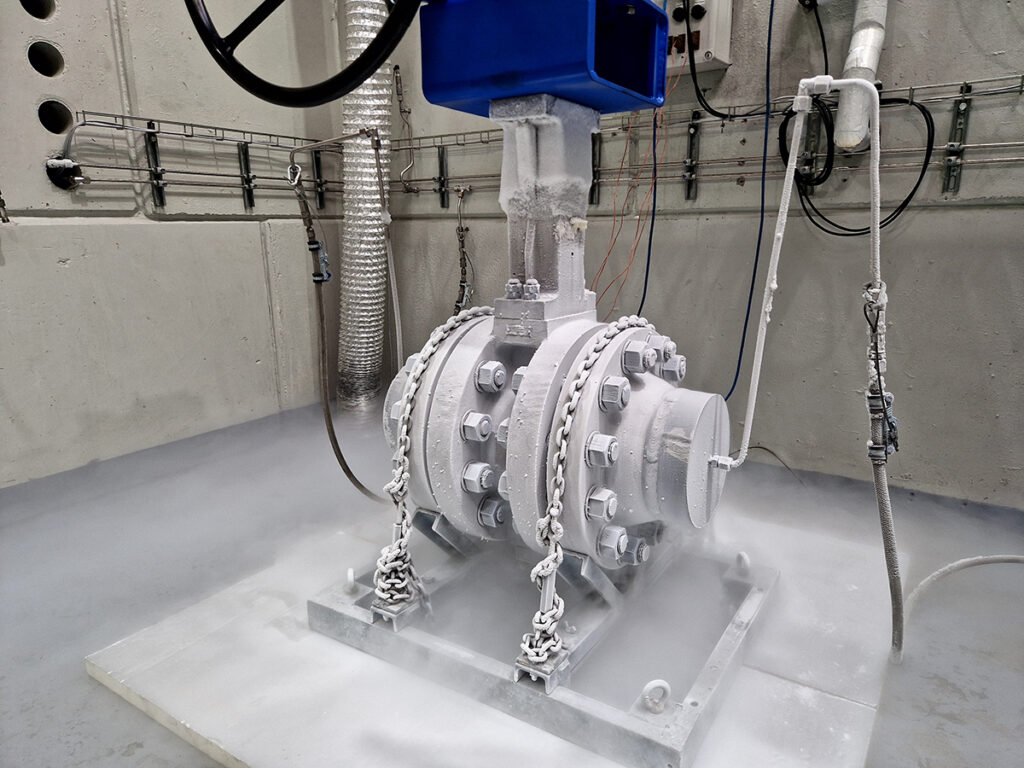 Test data and video camera images can be streamed 'live' so that an involved party can witness the complete test procedure from anywhere in the world with the possibility to chat with our technicians during the tests.
Our intuitive solutions can support our clients, inspectors and/or end user and witnesses from start to end, assisting you at every stage of out testing.
This service can offer great cost savings compared to flying in witnesses from overseas or interstate locations.
It can also be used to communicate with witnesses who cannot be present in our test facility.
To enhance and maintain our high standards of valve design and production testing, we operate with stringent cryogenic and low temperature testing programmes in our test laboratory recognized as a Conformity Assessment Body (CAB) with registration number L656.
Most of these tests are to be performed in accordance with EN-ISO/IEC 17025.
ITIS can offer customers the benefit of considerable practical expertise in testing and problem-solving, for valve manufacturers but also end-users.
The parameters we monitor include the measurement of leakage for seats and body, operating torques, and cycling under typical low temperature or cryogenic conditions. Tests are carried out in accordance with recognised international standards or can be designed to our customer's own specifications to ensure application suitability.